American Rescue Plan Act of 2021
The American Rescue Plan Act (ARP) is a federal benefit package that extends some provisions of the Continued Assistance Act from March 14, 2021, through Sept. 4, 2021.
ARP extends the Pandemic Emergency Unemployment Compensation (PEUC), Pandemic Unemployment Assistance (PUA), and Federal Pandemic Unemployment Compensation (FPUC) benefit programs for people receiving unemployment benefits through Sept. 4, 2021.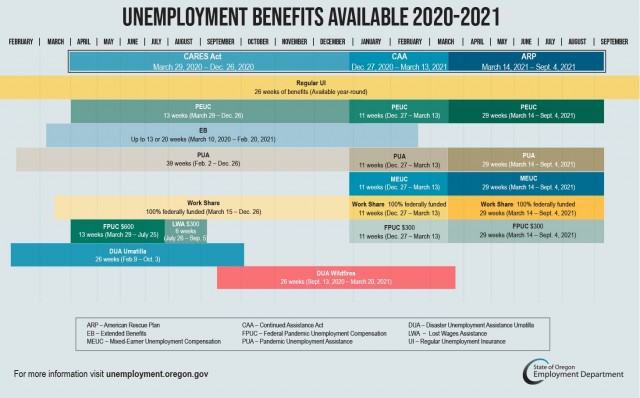 We are prioritizing the programs that impact the most people first, and will share details with you as soon as they become available.
We will continue to pay all PUA and PEUC claims that have not expired or exhausted. If you have remaining weeks on your PUA claim or remaining funds on an unexpired PEUC claim, your benefits will not be delayed if you are otherwise eligible.
The following is our priority order for making program changes. NOTE: If your PEUC or PUA claim has expired or exhausted, you may experience a delay in benefits.
Our first priority is the $300 FPUC weekly benefits. FPUC was extended through the week ending Sept. 4. Finished

Then we'll shift to paying the PUA extension. PUA was extended from 50 weeks of benefits to up to 79 weeks of benefits. If your PUA claim has expired (one-year mark) or exhausted (zero balance), you may experience a delay in benefits. Finished

Next, we'll shift to paying the PEUC extension. PEUC was extended from 24 weeks of benefits to 53 weeks of benefits. If your PEUC claim has expired (one-year mark) or exhausted (zero balance), you may experience a delay in benefits. Finished

After we've started paying FPUC, PUA, and PEUC, we will make sure that the approximately 14,000 people who had their weeks manually moved to avoid having an overpayment will receive the up to two weeks of FPUC benefits that we need to manually process. Finished

Finally, we'll refocus our work on adding a new program, MEUC, for people who have both W2 wages and at least $5,000 in self-employment.
For more information about the American Rescue Plan, please refer to these resources:
FPUC
PUA
PEUC
MEUC
Webinars
The U.S. Department of Labor (USDOL) recently released rule changes to the Pandemic Unemployment Assistance program (PUA) that expands the reasons a person may qualify for benefits.
In Oregon, we've already been allowing people to get benefits in many of those situations, but there are some areas where we are making changes.
The Oregon Employment Department has already been paying benefits in these situations, which other states are now required to do under the new federal rules. We've been:
Paying benefits to people who refuse to work under conditions that violate required COVID-19 safety measures, such as wearing masks and social distancing
Paying benefits to people who had a reduction of hours or a temporary or permanent lay-off. (Note: In February, USDOL told us to stop paying benefits in these cases, but this rule change means we can go back to paying these benefits. Affected claimants will be able to claim any weeks missed when the question was changed in February.)
Paying benefits to school employees during break periods if they were unable to continue working a non-educational job due to COVID-19 related reasons
Allowing people receiving PUA to select more than one COVID-19 related reason on their certification form, and to change or update their COVID-19 reasons each week
These are new federal changes to PUA that OED is working to implement:
Changing how we certify your information to protect people from identity theft and prevent fraud. You may receive an email from our technology partner ID.me directing you to verify your identity online. (Note: Only complete online verification through ID.me IF you receive an email from OED with a link to ID.me. If you were not directly contacted and given an ID.me link but you follow the ID.me process, your claim may be delayed.)
Paying benefits to school employees who are unemployed or have had their hours reduced as a result of COVID-19. This includes changes in work schedules and partial closures.
Allowing claims to be backdated as far back as Feb. 2, 2020 (for initial claims filed on or before Dec. 27, 2020), and as far back as Dec. 6, 2020 (for initial claims filed Dec. 28, 2020 or later)
Please make sure to follow us on Facebook and Twitter and to sign up for email updates to stay up-to-date on the latest information.