iMatchSkills Registration and Job Seeker Profile Step-by-Step Guide
Certain unemployment benefit requirements were paused or changed during the pandemic. Registering and completing a Job Seeker profile in iMatchSkills is one of them. If you are filing weekly claims for regular unemployment insurance (UI), you will get a letter telling you when you need to register and complete your Job Seeker profile in iMatchSkills by. Your benefits will stop if you do not register by your deadline. This does NOT apply to PUA benefits. We will share more information about work search requirements for PUA soon. Learn more at unemployment.oregon.gov/ReturnToWork.
Step 1: Go to iMatchSkills.org. Click on "Job Seekers Click Here"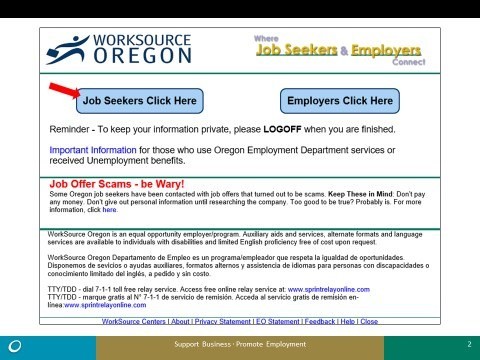 Step 2: If you have an account, skip to Step 3 and log in. If you are a new user, select "Create Your Account" at the bottom of the page. If you are filing weekly claims for regular UI, you must enter your social security number (SSN) when you create your account.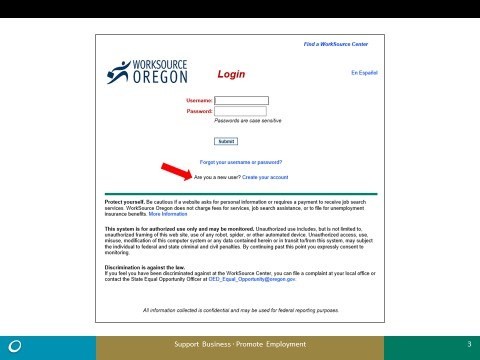 Now that you have created a Username and Password, click Next.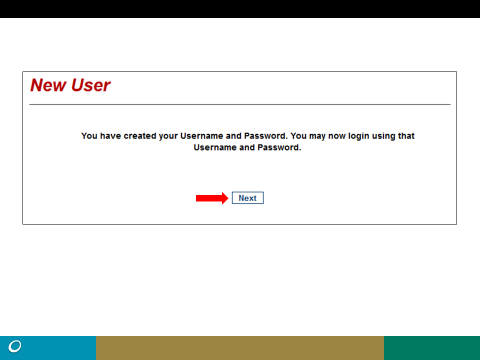 Step 4: Complete your registration by answering the questions. This will take about 30 minutes, and must be done in one session – you cannot take a break and come back before it's complete. There are six screens that will ask for some basic information about you.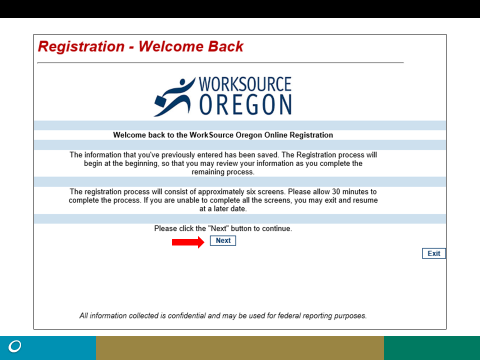 Once you have filled out all your personal information, check the box that says "I agree" and click Submit to complete your registration.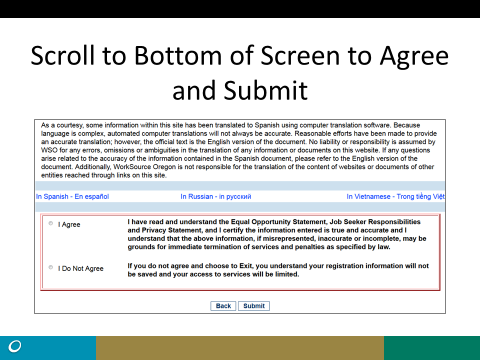 Step 5: Congratulations! You have reached the welcome screen. You should see a red check mark next to "Complete your Registration." You're halfway done. Now you need to create your Job Seeker profile.
The Job Seeker profile is used by WorkSource Oregon staff to match you with employers and job openings. Completing this part of iMatchSkills also allows you access to virtual online workshops and various training and job prep programs.
Step 6: Click on the "iMatchSkills" link.
There are 10 pages to complete in iMatchSkills including:
Job Preferences
Resume Builder
Work History Information
Education History
Miscellaneous Information
Selected Occupations
Driver License
Language Skills
Selected Licenses and Certifications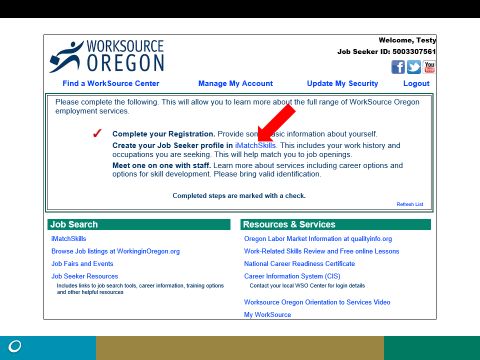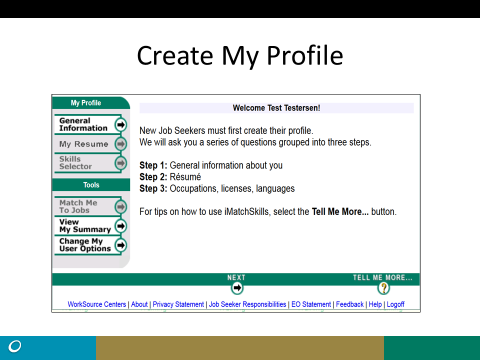 After you fill out your job preferences, you will have an option to upload your resume or create an iMatchSkills® resume.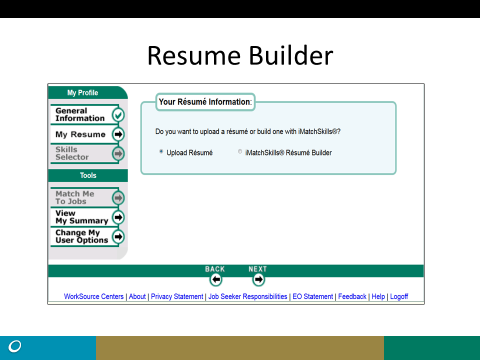 If you want to build your resume in iMatchSkills, be sure to click Save for your work history and education before selecting Next.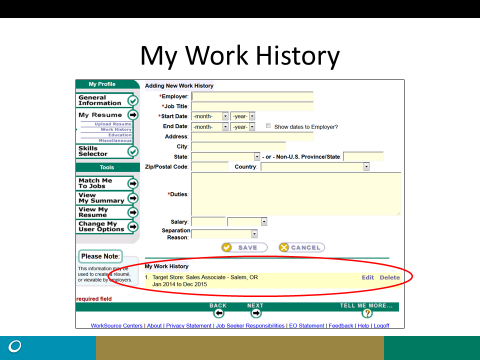 Select the occupation(s) you are interested in.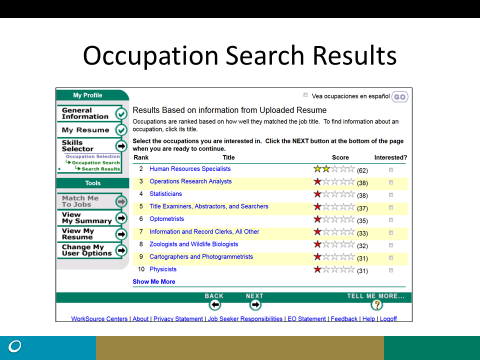 Indicate if you have a driver's license. If you do not have one, select "None".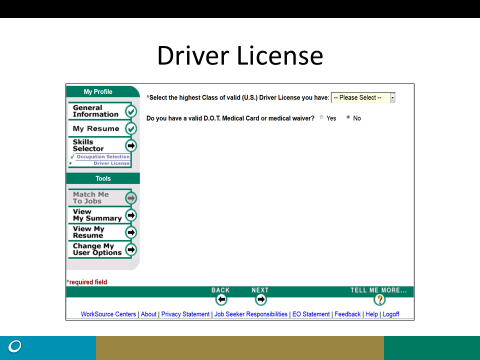 After completing all these pages, you will see a "My Summary" page. If any required information is missing, you will see a red banner at the top of your screen. If no red banner shows up, you have successfully completed your registration and iMatchSkills profile. This means you have completed the iMatchSkills requirement for regular UI. Your unemployment benefits will continue as long as you are eligible.
Your welcome screen will also show red check marks next to "Complete your Registration" and "Create your Job Seeker profile". You may have to select the "Refresh List" button in the lower right hand corner to make these check boxes appear.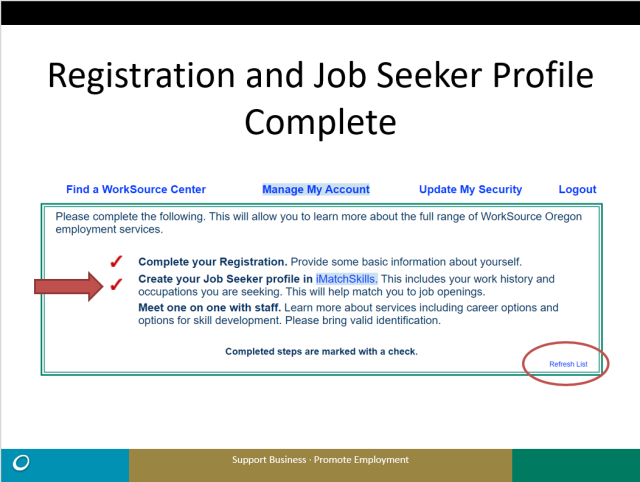 Once you have a completed profile, you can run a job match in iMatchSkills to see job openings that you might be qualified for. You can also sign up for online workshops offered by your local WorkSource Oregon office.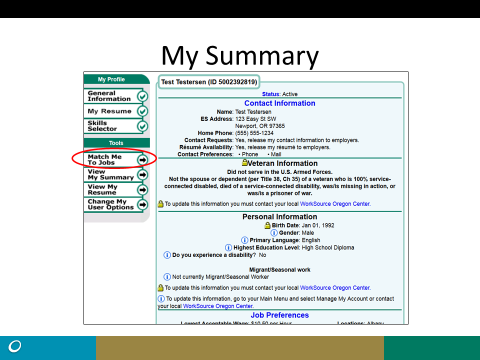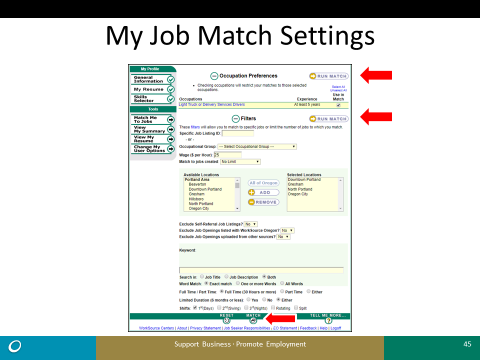 For additional information or help, contact a WorkSource Center near you.
If you have questions, check out our iMatchSkills FAQ.