Expired Claims and When to File a New Claim
If you filed a new claim after your claim expired and are seeing a delay in payments, don't worry. We may need to manually adjust your claim before we can continue paying. This MAY take up to six weeks to complete. We are starting with the oldest of the newly filed claims first, which are claims filed for the week of March 14.
You do NOT need to call us if you are in this situation. We know that any delay in receiving benefits is a hardship and we are working as quickly as we can to get everyone paid.

We know that unemployment insurance benefits are an essential lifeline -- especially during difficult times. There is a lot of new and complex information that continually changes, so we have created clear and concise guidelines to help YOU navigate the system.
The instructions below explain when to file a new claim and when to continue filing on your existing claim.
Regular unemployment insurance (UI) claims expire after 52 weeks. That means you cannot claim any more weeks of benefits after your claim has expired even if there is a positive balance in your account.
The information below covers a broad range of situations and your unique circumstances may be an exception to our general guidance. If you still have questions, please reach out through our Contact Us form.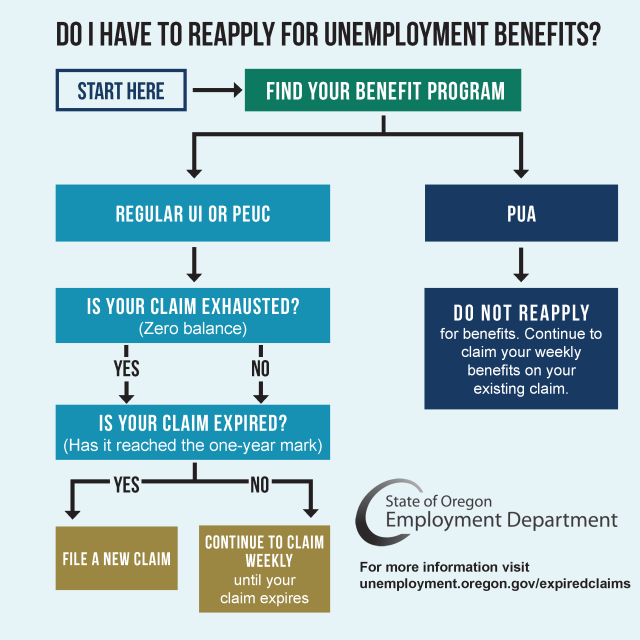 When to FILE A NEW CLAIM:
File a new claim after your Regular Unemployment Insurance (Regular UI) claim expires —even if you have PEUC benefits remaining.

File a new claim when you receive a notification in the Online Claims System.
If you do not file a new claim after your benefits have expired, your benefits will stop. If you are eligible for a new claim, you will continue filing weekly on the new claim. If you did not work in your base year, report your wages as "zero."
If you qualify for benefits under a new claim, you can file using the Online Claims System or by calling 1-877-345-3484. (Be prepared for long wait times.) Learn more about how to file a claim here.
When to CONTINUE FILING under your existing claim:
Continue filing on your existing claim if your claim is still active, meaning your claim has NOT expired. This is true for Regular UI -- even if you have a zero balance (exhausted benefits) on your claim.